Trail Ride Information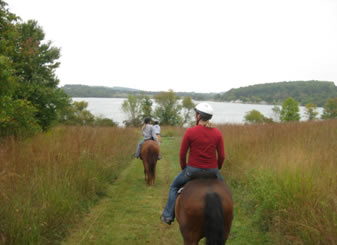 Enjoy a peaceful horseback ride through the meadows and woods of Marsh Creek State Park. Each ride is guided and is approximately one hour long, including a quick lesson in the ring on the basics.
No prior experience is necessary!
GENERAL INFORMATION
Gift Certificates are available!

Evening rides available Memorial Day through Labor Day and during the day on weekends
Weekends only – remainder of the year
Times are flexible, but reservations are required
If you have a special day in mind, please call far enough in advance to secure a time. We will try our best to accommodate your requested time, but we do operate on a first come; first served basis.
If you are not able to come for any reason, please call (610-321-1960) and tell us so that we do not get a horse ready for you. Not only is it inconsiderate to us, but to our horses as well, if you do not show up. Late arrivals may forfeit their time and deposit.
Costs: $45/per person for group rides - $50/per person for private rides (your party only) CASH ONLY!!!!
A $20 per person deposit is required and will not be refunded for those who do not cancel prior to their ride or who choose not to ride once they get there. We now accept PayPal. Balance due at the time of the ride.
FAQs
What time should we arrive?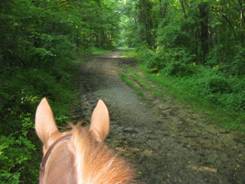 Please make sure to arrive at least 10-15 mins before your departure to allow us to pair you with a horse and fit you with a helmet. Directions can be found on this website!!
Can you do more than walk on the trail ride?
Absolutely not. For the safety of our riders and horses, walking is strictly enforced. Please do not ask to "run" the horses.
How many people can you accommodate?
We can accommodate groups up to six riders; however private rides are available as well.
Are there age restrictions?
Guests must be 13 years old to ride.
Are there weight restrictions?
Yes, we do ask your approximate weight to match you with an appropriately sized horse.
What do I need to wear?
Long pants or jeans & hard soled shoes are required; helmets will be provided. Please, no "high" heels, clogs etc.
What happens if the case of inclement weather?
We will notify you that day if we will not be able to have the trail ride. We will do our best to reschedule you for another time.